Commercial Snow Removal in Middlesex, Somerset and Union County, NJ
Experience the Kleen Seal® Difference!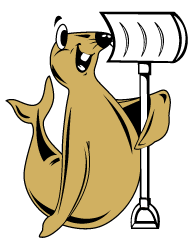 Always on call….
24 hours a day….
7 days a week…!
We offer 24 hour 7 days a week service to our clients.  Our clients can contact us day or night before, during, and after the storm to answer any questions or concerns they may have.  Emergency services are always available to you as a Kleen Seal Snow Removal client.
Kleen Seal Snow Removal's job is to relieve any stress that the winter season may bring you.  Our numerous trucks, crews, and equipment are readily available to make sure our contracted clients' snow removal is done in a clean and timely manner.  Our goal is that you're always pleased with our workmanship and service.  Satisfaction is guaranteed on every removal job we do!
We service Middlesex, Union and Somerset counties in New Jersey.  Many of the businesses that we currently service are located in the Edison, Metuchen, and Woodbridge areas.  If you are concerned whether your area would or would not be in our jurisdiction don't hesitate to contact us.
Are you interested in residential snow removal services?  Check out our residential division at JustShovelMySnow.com
At Kleen Seal Snow Removal, our job is to take care of all of your snow removal needs, and to ensure that your home, business, or property is free of snow and ice, and safe for walking, driving, and more. We understand that a sudden snowstorm can be difficult to deal with, particularly if you need large areas like parking lots to be cleared, salted, and secured. Doing this on your own with basic snow blowing equipment could take hours – which is why we're here to help.
From snow plowing to snow blowing and ice control in Central New Jersey, we do it all. We have an experienced crew of veteran snow removal specialists, top-quality trucks and equipment, and a "customer-first" attitude that ensures you'll always get exactly what you need.
What We Do – Our Services
We offer a complete list of snow and ice control services in Middlesex, Somerset, and Union County, NJ. From smaller parking lots to multi-building office complexes, we do it all. Learn more about what we do now.
Snow plowing – Though the government will typically take care of plowing on the streets, you're responsible for snow removal on your own property. With our snow plowing services, we can remove the snow from the roads and driveways leading to your property, as well as from the parking lot, sidewalk, and even other walking paths. We'll do it all, to ensure that your property is safe, and clear of snow, ice, and other debris.
Shoveling and snow blowing – Shoveling and snow blowing is the best way to remove snow buildup from large walking paths and sidewalks, as well as some harder-to-reach areas of parking lots. We offer shoveling and snow blowing as part of our commercial snow removal services. Interested in residential services for your own home? Visit our residential website at JustShovelMySnow.com for more information.
Ice control – We use the highest quality salt and calcium to control ice buildup and ensure that your property is as safe as possible, minimizing the risk of slips and falls, and keeping cars and other vehicles safe by eliminating "black ice".
Snow removal/loader services – In some cases, such as during or after a particularly heavy snowfall, there may be too much snow on your property to deal with it using only a snow plow. It may be necessary to move snow piles off of your property – such as away from parking spaces. We have all of the necessary equipment to do so, such as front end loaders.
If you need a service that's not listed, just get in touch with us, and tell us about what you need. If it's related to the ice and snow, we're sure we can help!
We're On Call 24/7 – Even On Weekends!
Our team of snow removal professionals is always here to help you. We understand that snow storms don't happen on some kind of schedule, and can occur at any time. Day, night, weekend, holidays – when you need us, we're here for you.
You can contact us before, during, or after a storm to schedule your service, or to ask any questions you may have about our snow removal services. And, as a valued Kleen Seal Snow Removal client, we always offer emergency services to you – and we can fit you into our schedule, to ensure that your property or business is cleared of snow and ice.
Our Service Areas
We service Middlesex County, Union County, and Somerset County, NJ.
When it comes to snow and ice control in New Jersey, we are the #1 choice. So please give us a call and give us some information about where you are, and the services in which you're interested. If you're anywhere near us, we're sure we can work out a service plan that's right for your needs and your budget.
Contact Us Right Away – See The Kleen Seal Snow Removal Difference
Ready to get started? Please give us a call right away, or contact us online. We're always taking on new customers – so don't get caught off guard by the next snow storm. Make sure you're prepared, and that Kleen Seal Snow Removal will be there to help you remove snow and ice, to ensure your property is safe and secure.